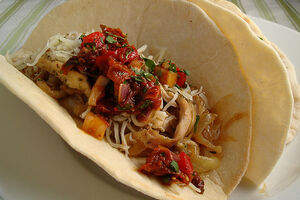 Prep Time: 10 minutes
Cook Time: 10 minutes
Yields: 4-6 servings
Ingredients
Edit
2 cups turkey strips
1/4 cup olive oil
1 red pepper, sliced in 1/4 inch strips
1 green pepper, sliced in 1/4 inch strips
1 medium onion, thinly sliced
1 clove garlic, minced
1 teaspoon pepper
1/2 teaspoon cumin
1/4 teaspoon cayenne pepper
1/4 cup lime juice
1/2 cup chopped fresh cilantro or parsley
Flour tortillas
Salsa
Sour cream
Guacamole
Directions
Edit
1. In a medium skillet, add olive oil, raw turkey, peppers, onion and garlic. Set on medium heat.
2. Season mixture with remaining ingredients and continue cooking for 8-10 minutes, or until turkey is no longer pink.
3. Serve fajita mix with warm tortillas. Garnish with salsa, sour cream, and guacamole (optional).
Ad blocker interference detected!
Wikia is a free-to-use site that makes money from advertising. We have a modified experience for viewers using ad blockers

Wikia is not accessible if you've made further modifications. Remove the custom ad blocker rule(s) and the page will load as expected.