Ingredients
Edit
½ loaf Italian Bread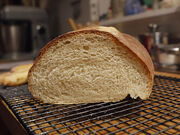 1 teaspoon Salt-Free Garlic Sprinkles
Butter substitute spray (a common brand is I Can?t Believe It?s Not Butter!)
Instructions
Edit
Preheat oven to 375° F. Cut bread in 1? slices. Spray butter evenly on bread, then shake on a small amount of Salt-Free Garlic Sprinkles. Wrap bread in the foil and warm in the oven for 15 minutes. Remove from oven and open foil immediately so bread does not get soggy. Serve.

For crisper garlic bread, place the slices on a baking pan directly under the broiler for 5-10 minutes, until the edges begin to brown.

Ad blocker interference detected!
Wikia is a free-to-use site that makes money from advertising. We have a modified experience for viewers using ad blockers

Wikia is not accessible if you've made further modifications. Remove the custom ad blocker rule(s) and the page will load as expected.