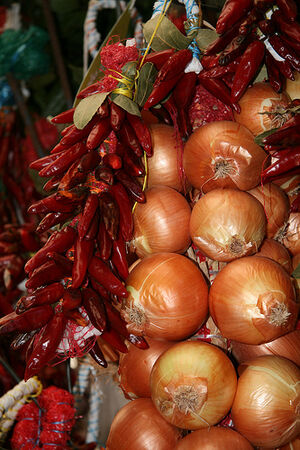 Ingredients
Edit
2 T. red hot chile paste or 10 red hot chiles, such as Thai
1/2 cup fresh lemon juice
2 T. finely chopped cilantro
1 T. chopped parsley
5 chopped garlic cloves
1/2 t. salt
1/2 cup olive or peanut oil
Directions
Edit
If you are using fresh red chiles -- it is important that they be red, for the proper color of piri piri -- chop them roughly. If you really want to make this authentic, find yourself the tiny "bird's eye" chiles, which are appallingly hot. Any hot chile will do, though.
Throw everything into a food processor except the oil. Buzz on high until smooth.
Once the sauce begins to get smooth, drizzle in the oil slowly while the machine is running. Once it is all incorporated, put the sauce in a glass jar and let stand at room temperature for up to a day.
For longer storage, seal in a jar and keep in the fridge up to a month.