Ingredients
Edit
2 chicken breast halves or 6 chicken thighs (boneless, skinless)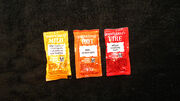 1 jar Macioce's Italian Salsa (mild, med or hot)
4 teaspoons Italian Seasoning
Cooking spray
Instructions
Edit
Preheat oven to 375º F. Spray baking pan and sprinkle bottom evenly with half of the Italian Seasoning (2 teaspoons). Slice chicken breasts in half (so you have 4 evenly sized pieces). Lay chicken breast evenly in baking pan. Sprinkle with remainder of the Italian Seasoning (2 teaspoons). Cover chicken with salsa, making sure that all surfaces have some salsa on them. Bake for 25-35 minutes, until the interior temperature reads 160° F. Let rest a few minutes until interior temperature of chicken reaches 165° F.

Serve with roasted potatoes, garlic bread and a side salad.

Ad blocker interference detected!
Wikia is a free-to-use site that makes money from advertising. We have a modified experience for viewers using ad blockers

Wikia is not accessible if you've made further modifications. Remove the custom ad blocker rule(s) and the page will load as expected.