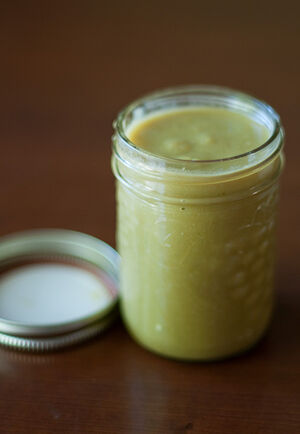 Prep Time: 20 minutes
Cook Time: 25 minutes
Yields: 16 servings
Description
Edit
Goes well with tortilla chips and an ice cold margarita.
Ingredients
Edit
1 teaspoon vegetable oil
20 fresh jalapeno peppers, sliced
3 cloves garlic, minced
1/2 cup minced onion
3/4 teaspoon salt
2 cups water
1 cup distilled white vinegar
Directions
Edit
1. In a medium glass over high heat, combine oil, peppers, garlic, onion and salt; sauté for 4 minutes. Add the water and cook for 20 minutes, stirring often. Remove from heat and allow mixture to cool to room temperature.
2. Transfer the mixture to a food processor and puree until smooth. With the processor running, slowly add the vinegar.
3. Pour mixture into a sterilized jar with a tight lid. The sauce will keep for 6 months when stored in the refrigerator.
Ad blocker interference detected!
Wikia is a free-to-use site that makes money from advertising. We have a modified experience for viewers using ad blockers

Wikia is not accessible if you've made further modifications. Remove the custom ad blocker rule(s) and the page will load as expected.