Ingredients
Edit
4 Yukon Gold or Red Skin potatoes
2 Tablespoons Herbes de Provence
2 Tablespoons olive oil
¼ teaspoon garlic granules
Salt & pepper to taste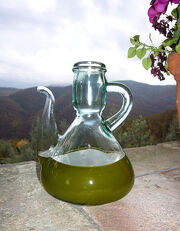 Instructions
Edit
Preheat oven to 450° F. Scrub 4 similarly-sized potatoes lightly under cold water, and pat dry. Slice each potato into 8 pieces. Place all ingredients into a gallon plastic zip top bag. Seal and shake to coat potatoes evenly with seasonings. Place seasoned potatoes on a roasting pan, skin side down. Roast for 20 minutes, until a fork spears the potato pieces easily. Serve immediately.
A toaster oven is great for this recipe if you have the right size roasting pan. It will allow you to cook the potatoes at the same time as the chicken.)
Ad blocker interference detected!
Wikia is a free-to-use site that makes money from advertising. We have a modified experience for viewers using ad blockers

Wikia is not accessible if you've made further modifications. Remove the custom ad blocker rule(s) and the page will load as expected.