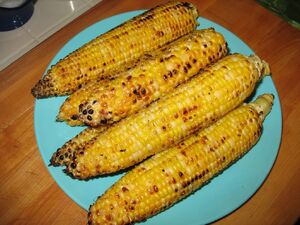 Prep Time: 5 minutes
Cook Time: 20 minutes
Yields: 8 servings
Ingredients
Edit
8 ears fresh corn, unhusked
Mayonnaise
Grated Parmesan
Cayenne pepper
Lime wedges, for serving
Directions
Edit
1. Preheat the oven to 350 degrees F.
2. Place the corn directly on the oven rack and roast for 20 minutes or until the corn is soft to the touch (be sure to leave the corn in its husks).
3. Char the corn on a hot grill for 6 minutes (or over a gas flame or under a broiler) or until the kernels are slightly blackened and begin to pop.
4. Once the corn has cooled, rub with mayonnaise and sprinkle with Parmesan and cayenne pepper. Be sure to thoroughly coat the corn.
5. Serve with lime wedges.
Ad blocker interference detected!
Wikia is a free-to-use site that makes money from advertising. We have a modified experience for viewers using ad blockers

Wikia is not accessible if you've made further modifications. Remove the custom ad blocker rule(s) and the page will load as expected.