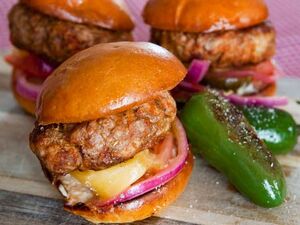 Prep Time: 15 minutes
Cook Time: 15 minutes
Yields: 4 servings
Ingredients
Edit
Burger Patties:
1 tablespoon Szechwan Seasoning or to taste (see note)
1 teaspoon finely grated fresh ginger
1 tablespoon soy sauce
2 tablespoons water
1/4 cup Jif® Extra Crunchy Peanut Butter
1 1/4 pounds ground beef chuck
Sweet and Hot Sauce:
1/2 cup Smucker's® Apricot Preserves
1/4 cup Smucker's® Red Plum Jam
2 teaspoons white vinegar
1/2 teaspoon finely grated fresh ginger
Crushed red pepper flakes to taste
CRISCO® Original No-Stick Cooking Spray
2 cups prepared fried rice, warmed
Cilantro, chopped for garnish
Directions
Edit
1. Combine Szechuan Seasoning, ginger, soy sauce, water and peanut butter in a medium bowl. Crumble ground beef over mixture. Gently combine the ingredients. Shape meat into eight (4-inch) patties. Refrigerate.
2. Combine apricot preserves, plum jam, vinegar, ginger and pepper flakes in small mixing bowl.
3. Coat unheated grill grate with non-stick cooking spray. Heat grill to medium-high (350 to 400 degrees F). Grill patties 3 to 5 minutes per side or until juices run clear. To serve, place 1/2 cup of warm fried rice onto each plate. Garnish burgers with sweet and hot sauce and cilantro.
Ad blocker interference detected!
Wikia is a free-to-use site that makes money from advertising. We have a modified experience for viewers using ad blockers

Wikia is not accessible if you've made further modifications. Remove the custom ad blocker rule(s) and the page will load as expected.