Tapatío is a hot sauce, produced in Vernon, California, that can be found at many grocery stores in the United States. It rates 3,000 on the scale of Scoville units.
"Tapatío" is the name given to people from Guadalajara, Jalisco: the company's founders come from Guadalajara. It is exported to Mexico, Canada, Central America and a few countries in Europe.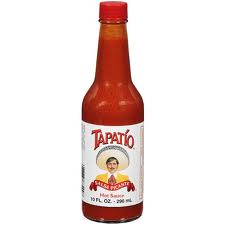 The ingredients, as listed on the product label, are: water, red peppers, salt, spices, garlic, acetic acid, xanthan gum and sodium benzoate as a preservative. Tapatío comes in four sizes: 5, 10, and 32 fl oz., and 1 gallon (148, 296, 946 ml and 3.785 liters), as well as in 7 gram packets.