==Ingredients==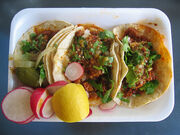 1 cup Mrs. Renfro's Tequila Salsa (Order At RenfroFoods.com)
1 tablespoon olive oil
1 pound tilapia fish fillets
8 corn tortillas, warmed
1/2 cup cole slaw mix
Instructions
Edit
In a shallow bowl, mix 1/2 cup Mrs. Renfro's Tequila Salsa with olive oil. Add fish fillets, turn to coat, and marinate for 10 minutes. Grill over medium heat for 4 minutes per side, until fish is cooked through. Place slices of fish into tortillas, garnish with cole slaw, and spoon remaining salsa on top.
Ad blocker interference detected!
Wikia is a free-to-use site that makes money from advertising. We have a modified experience for viewers using ad blockers

Wikia is not accessible if you've made further modifications. Remove the custom ad blocker rule(s) and the page will load as expected.