Ingredients
Edit
1 Acorn or Butternut squash Olive oil Herbes de Provence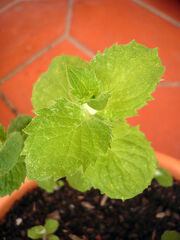 Instructions
Edit
Cut squash in half and scrape out seeds. Coat cut surfaces with olive oil. Sprinkle with Herbes de Provence. Place cut-side-down on a foil-lined baking sheet (for easy clean-up). Bake at 400 degrees for 30-40 minutes. It is ready when a skewer can be easily inserted and removed from the squash. Serve as-is or scrape squash from skin and mash.
Ad blocker interference detected!
Wikia is a free-to-use site that makes money from advertising. We have a modified experience for viewers using ad blockers

Wikia is not accessible if you've made further modifications. Remove the custom ad blocker rule(s) and the page will load as expected.